Poems by Susan Cohen
Archives: by Issue | by Author Name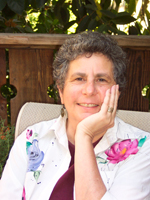 "If You're Reading This, You Might Be a Baboon"

Headline in the Christian Science Monitor when scientists discovered baboons could be taught to recognize which letter patterns make words and which are gibberish.
by Susan Cohen
From Canary Summer 2014
Susan spends much of her time looking for birds in both the San Pablo Bay and the Bodega Bay watersheds of Northern California.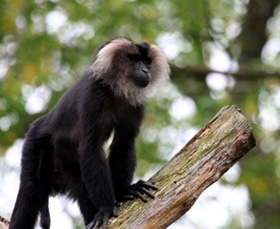 And you might be bristling as you read
the planet's news after a rough night
in the Jackalberry tree,
when all you ever wanted
was your morning cuppa
and the harmless flesh
of roots, juicy fruit of baobab
before commencing your commute
across the savannah.
You might be studying the encyclopedia
of a waterhole, spelling out b-a-d weather
from the sky's alphabet.
You might be reading up on humans
in the newly torn pages
of ancient jungles:
the hard truths of our macadam,
the visible clouds we belch
from our metallic shells,
our tracks that flatten grass,
the signs we post and mock
with bullet holes.
You might be trying to read your future,
puzzling over words
with silent endings.
Beginning Birding
by Susan Cohen
From Canary Fall 2011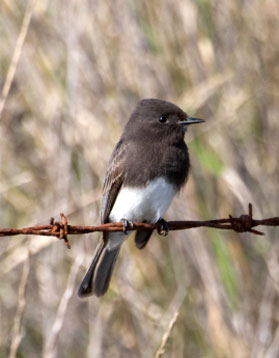 Before I found its page among the passerines,
I'd never seen a Black Phoebe.
I learned its family name means Tyrant Flycatcher;
and there it was outside my window, bullying insects!
It sallied off a phone wire — cursive flights
to make each midair snatch. The next day, too,
I saw one in the yard: sooty and white;
twitchy-tailed and crested. It said: seek, seek.
I saw another one next door, and when I strolled,
a Phoebe followed me gate to gate.
Black Phoebes waited everywhere I looked,
that obscure word you learn – then notice daily.
Though birds have no need to be written,
I felt I'd called Phoebes into being
from an alphabet of feather and full throttle.
How quickly it becomes about possession.
Soon, I was naming more birds into sight:
Let there be Bewick's Wrens and Hairy Woodpeckers;
Rufous-sided Towhees, Yellow-rumped Warblers.
Let there be Sharp-shinned Hawks!
Previously published in Poetry East.
© Susan Cohen