Poems by Juditha Dowd
Archives: by Issue | by Author Name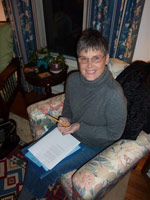 What, Where?
by Juditha Dowd
Juditha lives in Delaware Township, New Jersey, near the river of the same name in the Middle Delaware-Musconetcong watershed.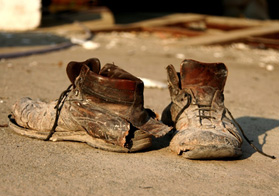 Audubon toted paper for his drawings,
tools and preservatives to keep the skins.
He posed his endless questions to the earth—
estuary's muck and distant mountain—
where he'd daily wander fifty miles or more
in moccasins, his gun across his shoulder.
Today we run our marathons in spandex,
our shoes are the handiwork of engineers,
and the remnant wilderness is wholly owned.
Gone, the profusion that lit his waking dreams:
Forty beavers glistening in their winter coats,
the sandhill cranes a river in the sky.