Poems by Bill Gainer
Archives: by Issue | by Author Name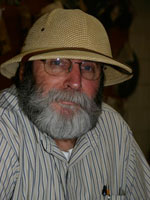 After the Fire
by Bill Gainer
From Canary Summer 2013
For more than 30 years Bill has lived and worked in the Deer Creek, South Yuba and Bear River watersheds of Northern California.
we'll sweep the ash,
wash the dogs,
water down the porch,
think about church -
won't go,
the kids and the neighbors -
won't call.
We'll probably throw
a bale of hay out for the deer,
some birdseed
for the wild ones,
wonder when they're going
to get the power back up
and wait for the smoke to settle.
We'll think about how quiet it gets
without leaves...
it's always quiet
without leaves....