Poems by Laura Wisniewski
Archives: by Issue | by Author Name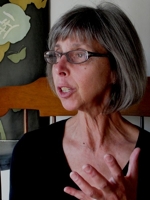 Roshoshona
by Laura Wisniewski
From Canary Fall 2014
Laura lives in the central Lake Champlain Valley, in the Lewis Creek Watershed, a lovely little tributary of which runs through her land.  The plants and wildlife of Lewis Creek are currently being threatened by a drastic rise in housing and commercial development.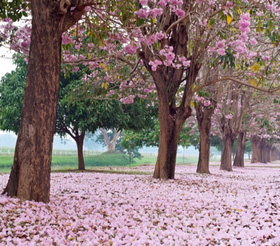 birthday of the world.
golden ginger, macoun, early mac
birthday of apples.
of cinamon, cardomom, vanilla, clove.
there is
an opening in the darkness through which we crown.
the leaves of maple, beech, silver birch
wash us with their turning
as the white-footed mouse licks her blind baby clean.
you can ask forgiveness of
brother, sister, lost children wandering, beautiful lover,
the dead.
you can ask forgiveness of god
almighty, merciful, wrathful, impotent, human.
I ask forgiveness of the world
wronged, bleeding, mute
that offers
chrysanthemum, marjoram, sweet grass, wild carrot.
the things
not the names.