Poems by Pamela Hughes
Archives: by Issue | by Author Name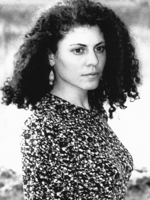 The Haul
by Pamela Hughes
Pamela lives in the Hackensack River Watershed, where she explored the meadowlands and marshes as a child with her father, five brothers, and sister.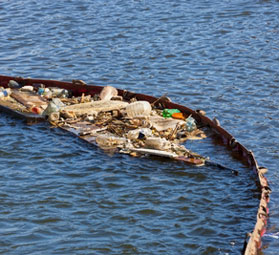 The haul is heavy,
so heavy, we have to drag the shape of disuse
out on a rope tied aft of the boat
of Bill the Riverkeeper.
Red rust scraps rest on the elbow
of white plastic soda rings,
and one, two, thirty-three
bottles of blue brown green glass,
all the broke down stuff that got dragged out.
Later the pile will rise like a modern art sculpture,
an industrial installation at the end of the dock:

huge rubber O, five feet on the skinny top of yellow,
fugitive 50-foot boom, no longer waving in the water,
scraps of muck stuff and bracket of old bottles stipple
the rim of the cyan blue cylindrical vat.
We roll the five-foot tire truck
from the muddy bank
like a brace of mothers and fathers,
ushering out a very big bad little boy
who has thrown himself hopelessly
down in the muck and won't budge.
By a rope, we haul our Mack truck tire theme,
hand over fist up the inclined boat ramp, then roll.

Up the dock, hope hangs in the balance
in the figure eight of the yellow oil-spill boom
we dragged from the Hackensack River first.
By boat, on canoes and kayaks we came with care
to the infinite edges of 8,…
the endless haul,
the endless haul of it all.