Poems by Anna Lena Phillips Bell
Archives: by Issue | by Author Name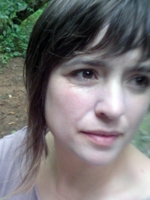 Trillium
by Anna Lena Phillips Bell
From Canary Summer 2016
Anna Lena grew up in the Savannah River watershed and now lives on the north side of the Cape Fear River, about fifteen miles from the ocean.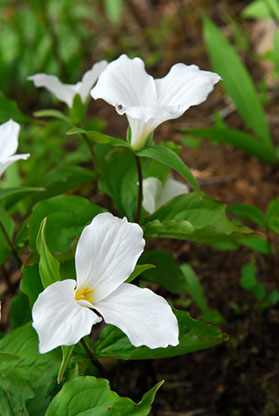 They grow down in the bottom, where the deer
lie down in grass and leave their bodies' echoes
on the ground. Each year, the trillium send
three leaves and then three petals into the air.
We headed down the bank, past thorns and stones
that hold the bridge upright. My brother swung
along the creek, and brushed past three-leaved stems,
red-veined—"You'll catch poison ivy," I called.
"It's elder, Annie, it's a tree," he said,

and swooped past me—loped along in twilight,
shadows dismantled by his boots. I followed,
elder. Where the creek bends to the hollow,
we ducked into a deer-track, left the creek
night-talking. Silky grass swallowed our footsteps
and branches snatched at our eyes. The narrow path
came wider by the clearing. "This is where
the deer sleep, right?" he whispered. "In the day,
yes," I said. But when deer bark in the night,
it looks like this: our eyes, kept closed against branches,
opened slowly to a shimmering white,
petal sleeves that lit themselves and flared
over dark leaves. Like stars, whose light is both
wailed call and calm response, they leapt
out from shadow as we leaned down to breathe
the barest scent of pepper from their petals
and walked among green leaf and flame-white sepal,
careful that our feet did not catch fire.
From Ornament, University of North Texas Press, forthcoming spring 2017. This poem first appeared on the website of the Dorothy Sargent Rosenberg Prizes.