Poems by Anna Citrino
Archives: by Issue | by Author Name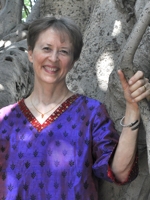 Puja for Saraswati
by Anna Citrino
Anna lives in New Delhi, India, in the Yamuna River watershed for 10 months of the year. The other two months of the year she lives at the edge of Moore's Creek in the San Lorenzo-Soquel watershed of Santa Cruz County, California.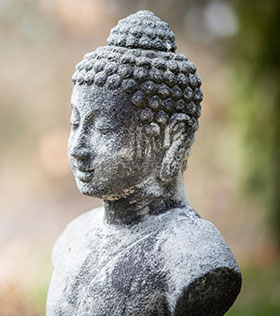 The village men brought her from the temple
in the back of their bicycle rickshaw, Saraswati,
the goddess of knowledge, music and art.
With her pale face and white gown and gold
paper decorations, she sat calmly on her wooden
"A" frame as the men wrestled her from her seat
and hefted her to the Yamuna's edge, the river's
wide skirts spreading toward us, air heavy
with sulfurous fume. Stocking-footed, the men held
the goddess above the bank, "Ek, do, teen," a shove,
and in she fell, face first, kerplunk into the water
and mud. Then, splat, splat, splat, just like that,
three plastic bags stuffed with marigolds followed.
The men climbed into the rickshaw and drove away. Done.
Down river amidst decaying petals, plastic detritus
pooled around their bodies, lie the previous
Saraswati puja forms—wooden frames elbow-angled
above the water's surface. Goddess of music, and art,
mouth pressed into the mud and muck, her white swan
drifting down a current of chemicals and sewage,
how does she go on singing?