Poems by Cheryl Dumesnil
Archives: by Issue | by Author Name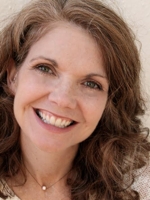 Lake Dharma
by Cheryl Dumesnil
Cheryl lives amongst the ghosts of a walnut grove, near a blackberry-choked creek, where the calls of kingfishers, nuthatches, hummingbirds, and crows spike the morning air.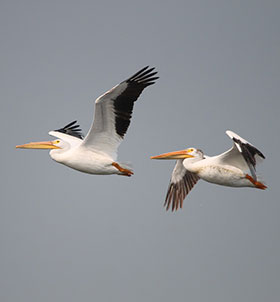 You arrive at the lake, expecting
to meet grief on the trail.
Instead: a fleet of white pelicans
patrolling the shallows, steam
rising off the water glow.
Cormorants on the watchtower
moan and tick, indifferent
wings shrugged toward the sun.
Not even the day moon, having
dusted off last week's rusty eclipse,
cares to hear your story
of a marriage slowly crumbling,
a young friend lost to cancer.
Then another. And another.
This whole forest depends
on that felled tree rotting into
home for salamander eggs,
centipedes, six varieties of moss.
Black phoebes rattle winter
thistles, swollen throats percussing:
this is, this is, this is . . .
Appears in the author's book Showtime at the Ministry of Lost Causes (2016)