Poems by Tiffany Midge
Archives: by Issue | by Author Name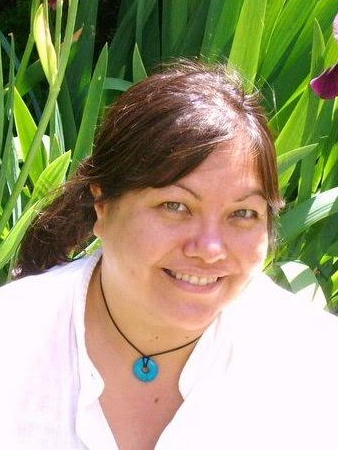 Night Caller
by Tiffany Midge
From Canary Spring 2017
Tiffany lives in Moscow, Idaho, which lies on the eastern edge of the Palouse region of north central Idaho in the Columbia River Plateau, homelands of the Nimiipuu-- the Nez Perce.
The mollusk inching toward my door,
its body a broad wet muscle of rain and ascent
reminds me how all things are possible,
just as the rain foretells certainty
in a language of unquestionable voice.
I hear the night break, the moon
tossing back her hair. I hear the hum
of contentment shuddering in the grass.
The mollusk seeks direction, drinks
in the door's pool of light, charts
a course for warmth, its horns
pivots of radar, exclamation points,
exquisite attachments puzzling out the smell
of water and storms. In the last twenty-four hours
there've been sloughs of visitors to this porch:
half-drowned spiders, stink bugs, furious horse-flies.
We've discarded them tenderly, others
mercifully tended and killed—unnamed shadows,
unmarked graves, wings and songs put to rest,
lunacies of want laid down. You turn in sleep,
then wake and tell me about tropical weddings
and masked brides, guests who only speak
the warbled tongue of sparrows, and fall back again—
dreaming your night stories, hosting the night visits,
each with its own small creature,
each with its own grand light.
First published in Drunken Boat and appears in author's collection, The Woman Wh0 Married a Bear.
Spring Valley Reservoir
by Tiffany Midge
From Canary Spring 2017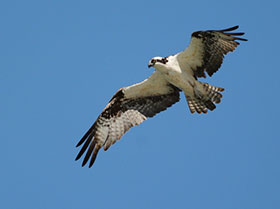 Some things are necessary, the pheasant
for instance, her call claimed first in the chest,
an elegant not wholly unpleasant
thrum as if a small being has made a nest
below your ribs, then strikes her way out.
Or the heron who wreathes the water
dragging along a veil of mist like white-
lace meteors along the reservoir
banks. We need the osprey, her acrobatic
plummets for bluegill, her aerial craft,
the way we need air, water, light. The creek
runoff pitches into a green prayer mat
of marsh amazed by its own silk body.
We live on this: the wings, the rhapsody.
First published in Yellow Medicine Review and appears in the author's collection, The Woman Who Married a Bear.
© Tiffany Midge