Poems by William Stratton
Archives: by Issue | by Author Name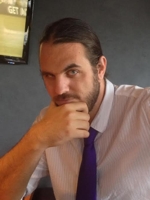 The Lumberjack
by William Stratton
From Canary Spring 2017
William resides on the shores of Lake Champlain, nestled between the relatively fast-growing Adirondacks and the much more ancient Green Mountains. Hiking up through a few thousand feet of stone, water, ice and snow of those peaks, he can almost make out where the Lamoille River reaches the bay near his home.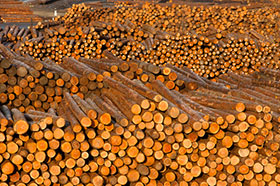 I took trees from up on the mountain
for thirty years give or take. The trees
took my youth, my joints, and gave me money.
I couldn't spend it on anything
but the bottle and some brown then my wife
left and I tried putting my life back on
for a while but damned if I hadn't forgot how.
I knew how to fall them just right I almost
never had one hang and I could close my
eyes right before the final cut and feel with
my hands the slow tip of the big body and
know where the mainline was, waiting to
pull the big logs down to landing. I was good.
Not many left now, like there was.
I put the logs down one by one for years but

they got the better end. I might as well
have fallen out there, among friends.
I might as well have felt something snap,
felt the heat of sap on my body felt a hole
in my gut or maybe breaking an arm or leg
the last thing I remember the cold steel
in my side punching right through
maybe I could hear the saw and maybe
I could see one last time that I had
stood on my own and that I was
worth something and that somebody
wanted me to be strong and good
and I would have blotted out the sky
for one long minute as I fell as they
tried to catch me and then only
the earth could stop me hitting
the ground and yeah I pulled logs
out by the hundred over a long while
but at least they died among family.