Poems by Jeremy Cantor
Archives: by Issue | by Author Name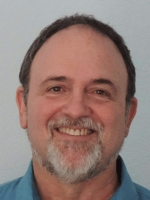 Tearing Out the Blue Girls
by Jeremy Cantor
From Canary Summer 2017
Jeremy lives with his wife in a small town in the Suisun Bay Watershed on a tidal strait connecting the Sacramento River with San Francisco Bay. Summer evenings he goes fishing downtown from the pier at the foot of First Street, while the sun sets behind the bridge and the sea lions dive for salmon.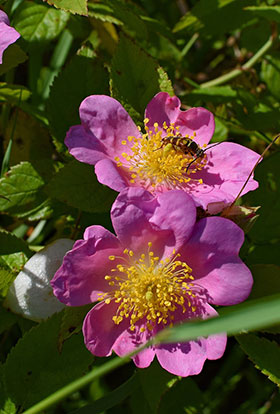 We dug the roses from their corner plot.
They'd done well there, but sadly we agreed
that we had erred severely in their placement
and thrown the yard's design into imbalance.
We tore them out.
But fragmentary rootstock
spread and sprouted, its rough pedigree
exposed for all to see. The elegance
of what was grafted to it, long since gone,
has been replaced by something old and tough,
in colors we'd not planned, in shapes unbidden,
with leaves unlike the ones we'd hoped to see,
with thin and arching stems, not solid stalks,
and, unlike the roses we had killed,
with simple blossoms – just five petals each.
They come up where they will, and when, and how.
They'll still be there when all the rest is weeds,
wild grasses, asphalt rubble, stucco shards,
a barely recognizable foundation
and sun and dust
and wind and rain
and crickets.
From Wisteria from Seed. © Kelsay Books, 2015.