Poems by Richard Lebovitz
Archives: by Issue | by Author Name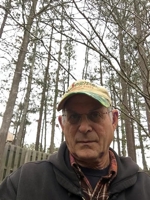 Night of the Frogs
by Richard Lebovitz
From Canary Summer 2017
Richard lives near an unnamed stream that is part of the Upper Chattahoochee Watershed and that wends its way to the river via Foe Killer Creek and Big Creek. His small backyard is a National Wildlife Federation Certified Wildlife Habitat. He has started participating in Georgia Native Plant Society (GNPS) plant rescues and restoration projects and recently applied to have his backyard certified as a Native Plant Habitat.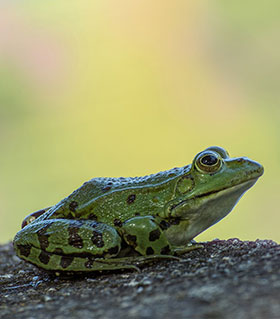 Rain poured from the darkness,
pummeling the pavement,
and the tide rose,
flooding the marsh,
and the creeks filled,
lapping at the roadsides,
till they joined hands
in the middle.
And the frogs came up
and covered the highway,
headstrong and reckless,
driven by who knows
what primal instinct
or blind ambition
that would make them
fling themselves so fearlessly
into the unavoidable path
of so many onrushing cars.
We could see them,
their frenetic hopping,
their flattened aftermath,
a Greek tragedy
played before our headlamps
on an asphalt stage.