Poems by Derek Otsuji
Archives: by Issue | by Author Name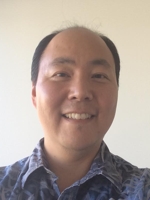 White Tango
by Derek Otsuji
From Canary Summer 2017
Derek lives between the Ko'olau Mountains and Kewalo Harbor on the southern shore of Oahu.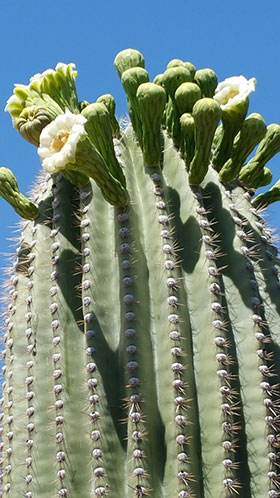 Nature selects from auditions of vast
variety and kind, whittles down the motley
ragbag while paradoxically adding
to beauty, strangeness, till the elegant
oddity be achieved, the fit performance
suited not for survival merely, but
pageantry—queer couplings, entanglements
of mutual cunning, desire twined
in tango to a music of its own
making. How many eons before that
choreography achieved a shapely
dance, life's swift movement through its fecund forms?
The desert flower of the Suguaro cactus
blooms for one night under a desert moon,
for one night, secretes its seductions of
nectar and scent, honing the fine hunger
of the lesser long-nosed bat who plunges
his muzzle into the floral tube (that
fragrant envelope), guzzling his fill, till
his furry head, dusted with pollen, lifts
back into air, shaking the gold spores
in a downward float fall like a blessing
to blush cold flesh of that moon-blanched flower
for one night lit beneath a flowering moon.