Poems by Dion O'Reilly
Archives: by Issue | by Author Name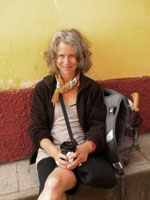 Rivervale
by Dion O'Reilly
From Canary Fall 2017
Dion lives in the Soquel Creek watershed on a stream-cut terrace covered with a thin mantle of alluvium on a ten-acre triangular plot between Soquel Creek and its tributary, Love Creek.
We slammed doors. We set out shoeless on trails of powdery sand,
turned a corner to the river, smelled pockets of cool air rank
with black mud. Maple trees leaned in, dropped leaves that rested
like bruised hands on the skin of the water, then floated away
around the high rocks at the bend. None of our mother's bitched-out
tasks, no sudden hands of brothers slapped away. No pimped-out
sisters or fatherless boys. No pirate-eyed stepfathers drunk
in La-Z-Boys. Gone was the stench of spilled beer and rat turds.
We learned downstream. We learned leaving. We learned someday.
Herons lifted their great bodies from the sandy streambed, shining
fish caught in their tapered beaks and the agony
twisting in the air made sense. We looked to the world
beneath the clear surface with its teeming minnows, we pushed
shin-deep through the creek, crawdads hiding, black
pincers pointing out. We snatched living food from the river—
steelhead and trout. We drank the water.