Poems by Sharon Bangert Corcoran
Archives: by Issue | by Author Name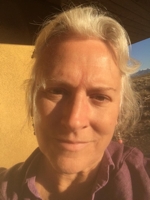 The Last Vulture
by Sharon Bangert Corcoran
From Canary Fall 2017
Sharon lives in southern Colorado at the foot of the Sangre de Christo mountains over the San Luis Valley aquifer.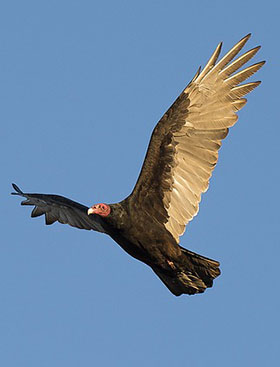 When the last vulture dies there will be no smell,
No one to notice her solitary rot.
Only the devas will nod in homage
To the ugly bird's change from corpse-eater
To corpse—no one left bloody enough
To give her sky-burial.
The last vulture will die, perhaps
Of a surfeit, from a sense of duty that bade her
Eat more than she could.
When that last vulture goes to her just deserts,
There may be a straggler crow or hyena
To mop up what's left, but she
Of the four-foot wingspan, bald head
And blood-red wattle will claim
The humble crown of the bodhisattva
Who left no one and nothing behind.