Poems by Therese Halscheid
Archives: by Issue | by Author Name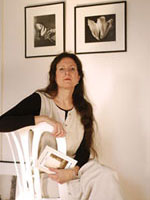 The Initiation
by Therese Halscheid
From Canary Autumn 2009
Therese was raised near a prehistoric pond where the first dinosaur bones were unearthed in North America.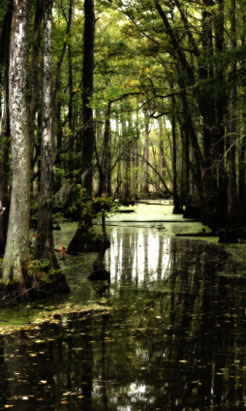 It was frightening
to grow calm lying down and yet not know
what sleep held
what the mind of wild trees
might do
black snakes, the alligator
I spotted earlier
in the swamp, anything was possible
already,
I witnessed areas
with no wind and flickering leaves
I had found shadows freeing themselves
enough to come alive
and when, by middle night, a presence
came through the screen, something that
took no form but moved
curiously forward
I, I
who had come this far
to be torn from the civilized world
knew only how to be good to it, was good
to it in opening myself, my limbs
as a woman might
and allowed its power to fall over me
learning, as one's eyes will do
entering words on a page.
I was read that way
and then,
in a manner which meant acceptance
felt gently closed like a book,
as it left.
Reprinted from Uncommon Geography by Therese Halscheid