Poems by Barbara Swift Brauer
Archives: by Issue | by Author Name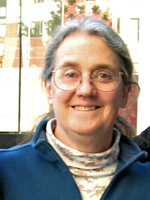 Blueberry Ridge: A Poet Weighs In
by Barbara Swift Brauer
Barbara lives in San Geronimo, California, in the Lagunitas Creek Watershed in West Marin, where the coho salmon return to spawn this time of year.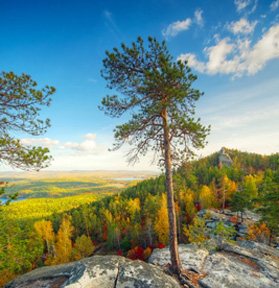 Make no mistake
this hill is not dispensable.
What else to balance the gibbous moon,
the westering sun
on a fiery February day?
See how its slopes round with the purpose,
ravines run lush with it,
its roots of rock thrust deep.
Where else do we come for small miracles?
Two pines on a high ridge.

Make no mistake, this meeting
is the work of centuries:
the uplift of plates
and shifting surface,
mountain and coastal plain.
Advent of poppy, oak,
migration of grasses,
lizard and mammal.
Confluence of light.
And what you begin as a careless walk
becomes an intersection
of your life and all that greets you here.
From the Valley below drift truck rev,
door bang, car slam, dog bark and hammer.
Here, high amid bushes, crow hop,
flick of songbird, and the wide gaze of cows.
And this oak: ablaze with silence
in the still afternoon
saying nothing
saying everything.
Full Moon Walk
by Barbara Swift Brauer
From Canary Summer 2012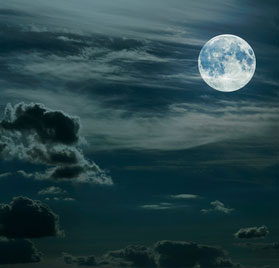 Even though you've climbed to the ridge
for its vantage overlooking the valley,
it is only you and the moon, nothing else:
a new territory of light and lightlessness
from which everything else recedes.
Taurus and Gemini blanched from the sky,
even Orion retires, dogs at heel.
Only you in the spotlight,
submerged in light, immersed as a swimmer.
The trail beneath your feet
indistinct as a streambed, ocean floor. You walk
in tentative steps, ready for shift.
Or, as if you moved in pure snow,
flapping your arms like an angel
to animate the shadows.
As if the rest of the world has melted away.
As if it could last forever
and no one waited below.
© Barbara Swift Brauer
Ridge Developers
by Barbara Swift Brauer
From Canary Spring 2012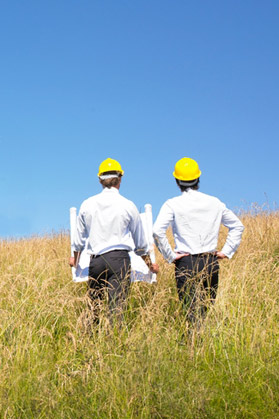 You can smell them coming, welcome
as a cane toad, grateful to gain a toehold
where they do not belong. Soon
to swallow what they can, and poison
what they can't.
Imported from an alien climate,
hell-bent on usurping yours, they come armored
with rolled deeds and developer's plans, airtight legal.
Soon they're into the lay of the land,
marking up the wild places, calibrating the angle
of sunset and rise for their living room windows.
You'll come to know
the wide smile, the handshake that sizzles
as you seize it, the eyes that see right through you
to the future they are going to ruin.
And you can hear in their friendly voices
the chain saws revving for the very trees
now holding your horizons.
© Barbara Swift Brauer