Poems by Gail Newman
Archives: by Issue | by Author Name
Where Will They Go?
by Gail Newman
From Canary Spring 2013
Gail lives in San Franciscoís Mission Bay Watershed. Adjacent to her house is an open field park of native grasses and plants where she often spots various birds including red-tailed hawks, kestrels, meadowlarks, sparrows and robins.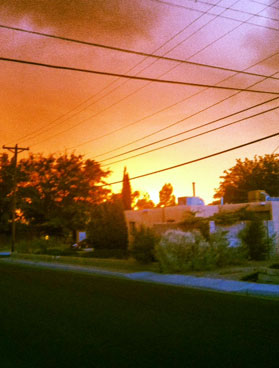 The willows, the windows
The swans, the trellises, the girls in green dresses
Where will they go, the streets, the kisses
The near hits and misses
The firm hand and soft day
Gloomy room, sleek white moon
Shattered glass beneath heel of bride groom
Bride in white veil, hoe and nail, beetle, snail
Where will they go, the wild cheering crowd
The battered ball, the loud smile
The lover of stones and stems, the child
The big woman and small man
The bones in the grave
The soul in the body of the slave
The synapse of mind
The bullet in wind
The breath of the earth
The earth, the earth where
Will it go?
Previously published in the authorís book, One World, Moon Tide Press. Photo by Rebecca Bloom.