Poems by Taylor Graham
Archives: by Issue | by Author Name
Fencebreaker Creek
by Taylor Graham
After 24 years between forks of the Cosumnes, Taylor now lives among tributaries of the American River.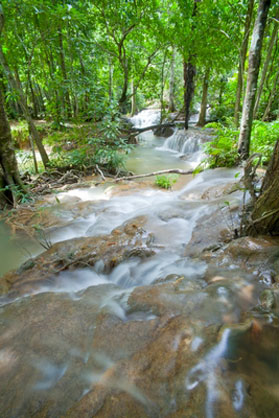 Yesterday afternoon, a blizzard of blue-
oak leaves covered the newly-swept deck.
By nightfall the rain gauge measured
2.5 inches. Just the beginning.
All night I dreamed storm. The rains
kept falling. Our seasonal creek - dry
most of the year - came to life, an animal
gorged on plastic bottles and tires
from upstream, tree-limbs that ripped out
our fence-crossing in its path.
The creek bucked like a mud-bay
bronco, down the bedrock staircases
off Stone Mountain. The hillsides
rode washing downstream.
For years we've lived here by grace
of title proved by plat and survey
pins driven into good soil.
I dreamed our little house held - a roof
perched like a nest atop rockpile,
pinnacle not yet eroded away.
I woke to calm before dawn, break
between storms. The news predicts 20
inches. What have we done to our
weather? This beautiful, dark morning.
From There to Somewhere Else
by Taylor Graham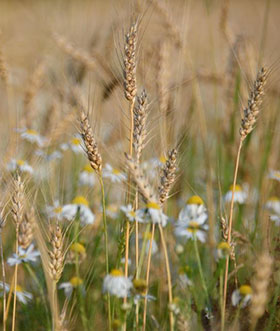 These weedy fields
bordered by 2-lane highway and country roads,
industrial garage behind a chainlink fence,
and the old lime kiln now refuse-transfer station;
these vacant fields, wasteland of star-
thistle, greasewood, scrub oak and Queen Ann's
lace in season; a placeholder for development.
I've seen it coming; and in this morning's paper,
these useless fields proposed to be
parkway saturated with sidewalks, signals,
bus stops, parking and access to El Dorado Trail –
once a railway, now a foot and bike path
skirting these vacant fields
I know so well. I've walked my dogs here,
finding game trails through coyotebush that stays
vibrant green in bone-brittle summer.
These derelict fields, buffer to the Trail
with its oak woods and marshy little creek,
dry except in the cold days under branches bare.
Birdsong. In the newspaper, no one spoke
for these weedy fields, but
folks opposing the new parkway didn't mince
words: pollution from old industry. Core samples
will be analyzed, impact studies made.
For now, I'll walk these empty fields
where deep in the brush, I happened on a clearing;
silence in the midst of coyotebush in festive
winter bloom, the short sun just setting.
© Taylor Graham