Poems by Sarah Giragosian
Archives: by Issue | by Author Name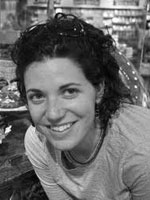 Lonesome George: the last member of the Chelonoidis abingdoni species (circa 1912- 2012)
by Sarah Giragosian
Sarah lives near the west banks of the Hudson River near the Albany Pine Bush, the only considerable pine barrens dune ecosystem in the US. Although a preserve was established in 1988, the pine bush has shrunk from 25,000 acres to 6,000 acres due to development in recent years.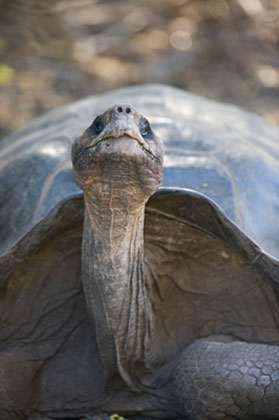 Probably the God of Tortoises,
with his bacteria-rich kiss
and his shell as wide as a barouche,
loves you, George.
He will be magisterial but clement,
welcoming; he will scoop his neck
across the vault of heaven and take you in,
his ponderous face upon yours.
He will jest with you,
take you for a lope across the shaded lawns.
Light will play on the intricate scutes
of his shell when he reminds you
that no animal goes unmolested on this earth,
and to be the last is to suffer idolatry
or worse, this mortal irony:
the zoo plans to embalm you
(because preservation, though tardy
at this juncture in your lineage,
is pressing for posterity's sake).
Someone will suture you,
mammoth and sloe-eyed, with dust deep
in the crevices of your skin,
and the ancient minerals of the earth,
for the last time, cemented in.