Poems by Wren Tuatha
Archives: by Issue | by Author Name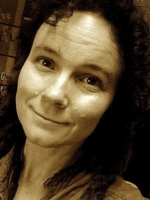 Tupelo Coyote
by Wren Tuatha
From Canary Summer 2017
Wren lives in the Butte Creek watershed of the Sierra Nevada on a ridge called Nimshew, which means "little water."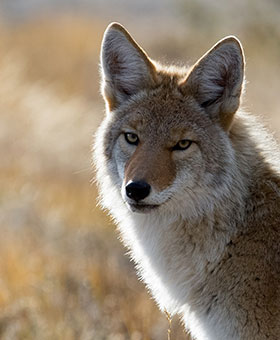 We were tracing Jack's Creek
where the woods abducts it from the rolling
hills of dairy cows and tobacco,
I on the asphalt, you behind the tupelos.
You stalked me like a fan
afraid to ask for my autograph,
those alien eyes,
calculating,
measuring my marrow
bend after turn, always
thirty paces aside.
Now you trot out in the farmlands,
legs like tobacco sticks, mapping the median line.
I am roadside, reading.
You are storybook real.
I speak to you, familiar,
as if you are the family dog.
Your answer is a glare-beam
that rips me, rights me.
You put me in the landscape,
that's all.