Poems by Laura Glenn
Archives: by Issue | by Author Name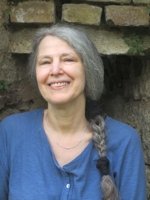 Ice Creek
by Laura Glenn
Laura lives in downtown Ithaca, New York, a short walk from Ithaca Falls in the Fall Creek sub-watershed of the Cayuga Lake watershed.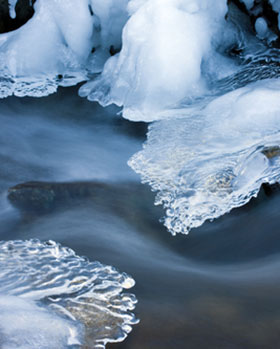 The green engineer says, knowledge
ruins his appreciation
of beauty. Even sunsets—
shell-pink blurring into lavender,
a nacreous cloud, glorious with pollution.
Weren't there sunsets
before? Even if sometimes
it makes the sky beautiful,
must I despise the colors?
I worry about warming;
but still, the colors!
Maybe I don't feel bad enough.
Today, the creek overflows.
Water rises; sump pumps
do overtime, as do firefighters—
bailing out basements.
City workers barge in, smash
ice chunks that jam the creek—
claw them out with the long arm
and huge hand of a scoop crane.
Leafless lilacs along the creek
lose limbs.
Crushes of ice in bitter water rush
under the bridge
lined with watchful neighbors.
Kids pause by roads turned
into barricaded ice rinks.
Toward evening, volunteers pass sandbags—
pile them like plump pillows
to ward off watery nightmares,
fitful sleep. The unfrozen waterfall
roars in the background.
I find a beautiful thing in the mess:
a rain-darkened lilac branch
sprinkled with celadon-green lichen—it twists
and ramifies, narrows at zigzag angles,
bears delicate blooms of fungus,
like cherry blossoms.
Maybe the young engineer was right.
Ice creaks like an old door opening.
Crossing a bridge, absorbed
in the branch I brandish home,
a layer of feelings begins to thaw and mix.
I sidestep a puddle hosting an oily rainbow.
"Ice Creek" appears in the author's chapbook, When the Ice Melts (2017).