Poems by Deborah Fass
Archives: by Issue | by Author Name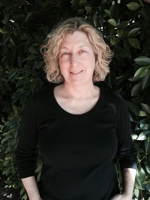 Sharing National Geographic with a Stranger's Child in the Waiting Room
by Deborah Fass
Deborah lives on the San Francisco peninsula, about a mile northeast of Pulgas Ridge, between Greenwood Creek and Cordilleras Creek, in the Cordilleras Creek watershed.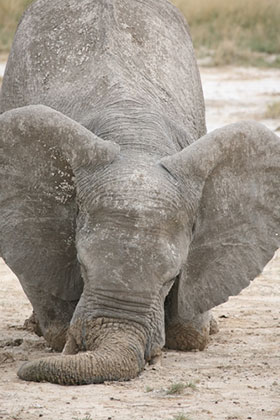 We think the elephant is being brought to his knees,
the photo showing his collapse, the gash in his thigh.
Here's the helicopter, the Mobile Veterinary Unit,
landing near the sedated bull, who, while his kin wait
off to the side, lies unconscious, great tusks
pointing nowhere.
Torrential downpour, first of the season.
Vets tend the open wound, remove dead tissue
around the arrow hole.
But he is getting up. Struggling
to raise his enormous bulk
from the mud, front legs straight,
back legs bent. On his knees.
He's praying, the girl says.
He pushes into the slippery earth.