Poems by David Axelrod
Archives: by Issue | by Author Name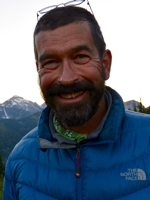 After Strife
by David Axelrod
David has lived for 30 years in the Columbia River Watershed in the upper reaches of the Grande Ronde River between the Blue and Wallowa Mountains. His house is on the steep south bank of an abandoned meander, where the river flowed at the end of the last ice age.
I didn't expect this
quiet, these rows of empty
boxcars, rails and sidings
overgrown by thickets of dogwood.
At far crossings, debris fires
billow—sporadic and strange,
set ablaze by whom?
And why?
In the valley, fog rimes
the galleries of cottonwoods
along the river, limbs glimmering
old moon, new or full,
and once or twice each day,
whatever a day is
in this afterlife, a random wave
passes through barren
crowns of trees and dusts
the sere grass in hoar.
No center holds. Peripheries only
and a gradual blurring—
what was that, scuttling
sideways along a sagging wire,
its wings or shoulders hunched,
a lump of quills or damp fur?
A white horse takes a roll
in snow, shudders as it stands,
then disappears into a fold.
And far deeper, in the remote
and unplanted tillages,
dry thistles scrape against
the plowshare
where it pulled to a halt.